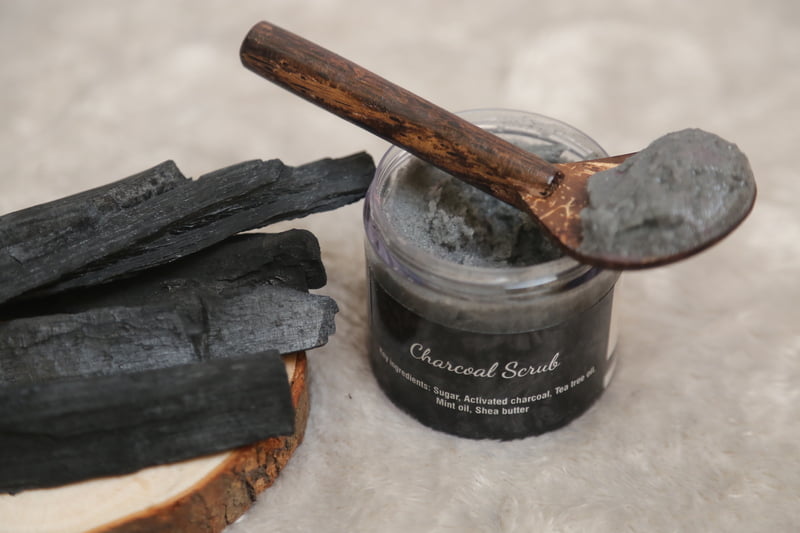 Key Ingredients: *Charcoal Powder *Shea butter *Coco Butter *Sugar *Coconut Oil *Mint Oil *Tea Tree Oil
*Derived from Organic source.
Benefits:
· Charcoal Powder is like a magnet that attracts the unwanted deposits on the skin and clears it with ease.
· Shea Butter helps in conditioning, toning,softening, and soothing your skin.
· Coco Butter retains moisture and is readily absorbed by the skin making it less greasy.
· Sugar keeps the skin hydrated and aids in exfoliation.
· Coconut Oil with its antimicrobial properties reduces hyperpigmentation, and is a good moisturizer.
· Mint Oil is a 'skin saver' and gives a boost to your beauty treating pimples, acne and irritation of the skin.
· Tea Tree Oil soothes dry skin by reducing irritation and itching.
Usage:
· Wash your face with a cleanser.
· Apply the Charcoal scrub and massage your face in circular strokes.**
· Wash your face in warm water.
Tips:Charcoal Scrub can be used for the face and body. Always use the scrub before applying the face pack onto the skin to facilitate the ingredients to act on the surface of the skin effectively.
Skin type:
Suitable for all skin types.
Important:
It is recommended to perform a patch test to determine if your skin is susceptible to any allergic inflammation or reaction before using the product.
Disclaimer:
All our products are Chemical-free, free from Animal-testing, and No artificial or synthetic fragrance.